Hej,
Zacznę może od tego jak wygląda moja instalacja:
Mam światło 2 kanałowe sterowane przez przełącznik OXT do którego podłączony jest pojedynczy łącznik (czyli zmienia stan obu kanałów)
Szafa w korytarzu posiada czujnik otwarcia drzwi i zapala tylko jeden kanał na przełączniku i gasi światło 10 sekund po zamknięciu
Problemem jest brak synchronizacji w przypadku gdy ktoś otworzy światło i dodatkowo łącznikiem zmieni stan (jeden kanał zapalony przez otwarcie drzwi zgaśnie a drugi kanał się zapali).
Chwilowo rozwiązałem to tak, że sprawdzam czy mi się stany nie rozjeżdżają i w razie czego ponownie uruchamiam światło na kanale od drzwi. Niestety takie zachowanie ma taką wadę, że na chwilę to jedno światło gaśnie i ponownie się zapala, co jest takim sobie rozwiązaniem.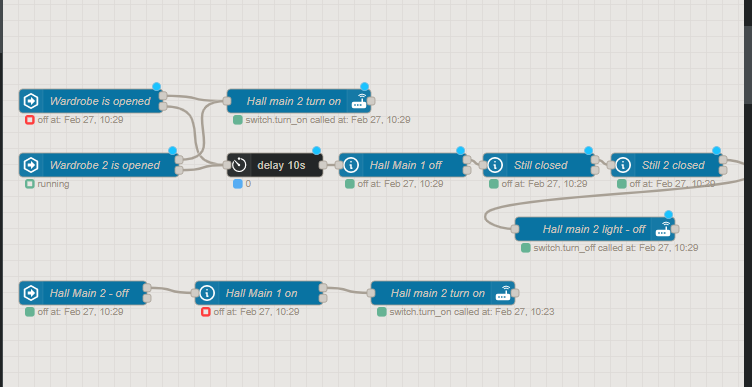 I teraz pytanie: czy istnieje jakaś opcja by przerwać zmianę stanu wywołaną przez łącznik aby zablokować wyłączenie kanału 2? Albo może da się jakoś rozróżnić czy inicjatorem zmiany stanu był przycisk fizyczny?