Czy jest możliwość ukrycia w Mini Graph Card słupków które nie mają jeszcze żadnej zawartości?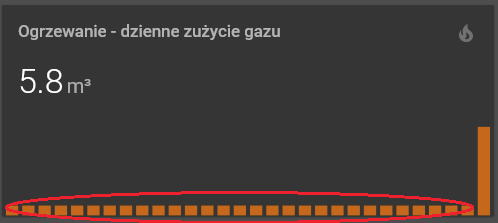 entities:
  - entity: sensor.shellyem3_c45bbe5fdd79_channel_b_power
    color: green
    show_line: false
    show_points: false
    show_legend: false
    smoothing: false
font_size: 75
name: Łazienka
lower_bound: 17
hours_to_show: 168
line_width: 3
points_per_hour: 60
type: custom:mini-graph-card
aggregate_func: min/max
group_by: date
show:
  graph: bar
  extrema: true
  average: true
  state: true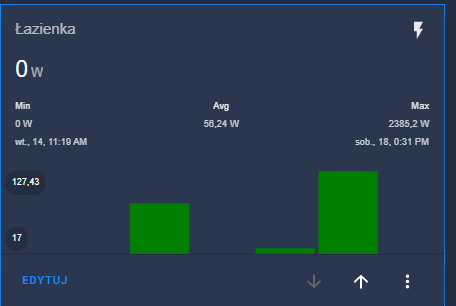 a mi się nie udało tego zrobić (po pewnym czasie odpuszczam dalsze walki) dlatego @artpc brawo TY!
Dzięki, w sumie to takie małe oszustwo ale skuteczne. A ponieważ jest potrzebne tylko tymczasowo to wdrożyłam i nie zgłąbiam tematu.