Proszę o pomoc w rozwikłaniu pewnego problemu.
Dlaczego dzieje się tak i jaki ja mogę mieć na to wpływ, że stan encji jest pokazywany różnie w zależności od wyboru rodzaju karty.
Wygląda to tak:
gdy wybiorę kartę typu encje uzyskuję coś takiego:

gdy wybiorę kartę typu encja mam coś takiego:

Wyprzedzam od razu odpowiedzi typu zajrzyj do atrybutów encji, bo nie ma tam możliwości wyboru tego co mnie interesuje.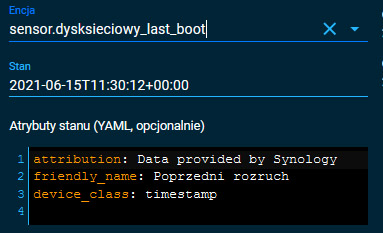 Wiem, że kluczowym elementem który może tu pomóc jest informacja device_class: timestamp, ale jak tego użyć żeby niezależnie od wyboru rodzaju karty uzyskać zawsze stan encji w postaci przedziału czasu jaki upłynął od poprzedniego rozruchu a nie w postaci daty jego wykonania.